This Review is up to the first Milestone. It covers unit 1, chapter 1, lesson 1-4.
Anyways, I have finally cracked and bought the Rosetta stone program. I chose the v4 Totale program, which is the mobile version of Rosetta Stone. It costs $20US a month for a minimum of 12 months. So you must commit to $240 purchase, and then after 12 months, you are free to cancel your $20 subscription at any point. So far, I access it through the browser format but I know I can get it on my phone and kindle (I believe at least for the kindle).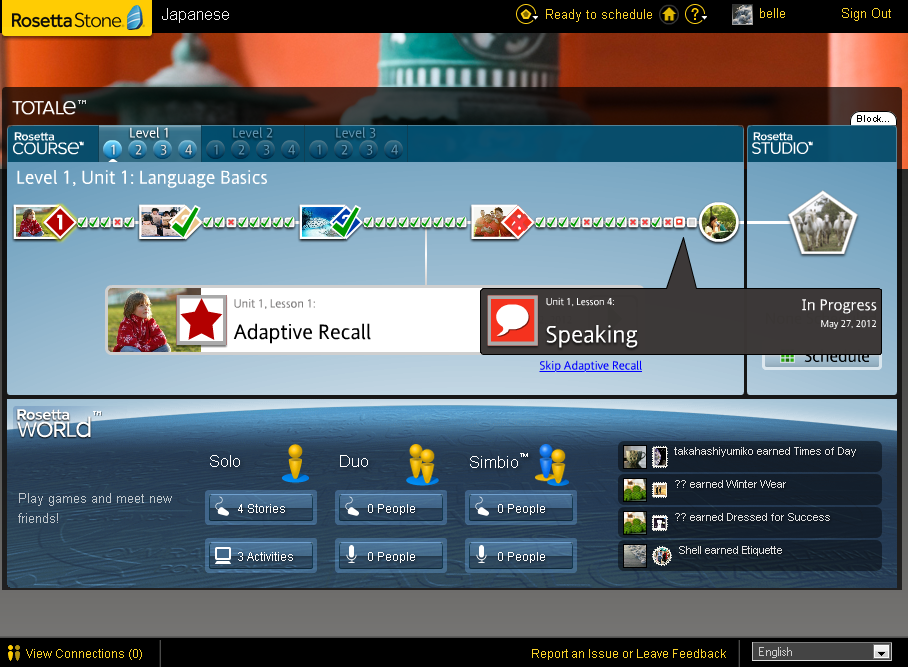 Overview of style of teaching:
Speaking: Sometimes you repeat exactly what they say, sometimes you use deductive reasoning to figure out what to say.
listening: You listen, without the text, and must match the phrase to the correct picture.
grammar: A sentence will be shown and there will be a little drop down box showing two or more options, you must choose the correct option.
writing(typing): Shows you the romaji for the kana. You must spell out words that they give you.
matching: Phrases to pictures.
Milestones (covers the entire said unit): Prompts you and you must say the result, or prompt the computer and they say the result. SOOOO MUCH FUN. You actually realize how well you know how to say things and sometimes, you'll amaze yourself.
Initial Impressions When I bought it:
Holy COW, it's a lot at once. You speak, read, listen all at once. If you know some kanji, it'll help you. I'm up to 500something and I could read some of the kanji to help me.
I recommend you knowing kana. It'll help you during the speaking sections. (Though there is romaji /sigh)
It's HIGHLY ADDICTIVE. I've gone through almost a full 'chapter' lesson and not been bored or tired. A lesson consists of a lot of mini lessons, each consisting of even smaller sections. It goes by pretty fast.
It's forced me to repeat and to speak. This has always been my weakest point. I however still struggle with saying the phrase in the time allowed. I'll also only get one part of the phrase down and forget the rest. I wish they broke it into smaller sections sometimes.
You can change the output language between kanji, romanji, kana, and kanji with furigana.
Several months in:
I took a break from RS because I didn't know my kana. Now that I was a little forced to read in kana, I quickly learned a lot of it in a short amount of time. Now, I can finish phrases and understand what's going on most of the time. I am learning how to not only say things, but write them now as I understand kana, I can understand components of the sentence.
 I can now speak the phrases more correctly as I can read them aloud. I have learned when it's proper to pause and when it's not.
I dislike the chapter openings. They include a little of everything that you will learn in the following lessons however you aren't taught it before you're tested on it. It gives me a headache but it also fun in a way to be pushed completely into the unknown. The chapter openings tend to also be very long and I think should be at the end of the lesson, not before it. It would make a great review.
Milestone: Right before finishing up this review, I did my first mileston. As you read before, It really excited me but was also very challenging. I didn't know exactly what to say or how to say it, but I got enough of the phrases right to move the story line on. If i was just CLUELESS, after two tries, the program will give you what to say with the sentence. I loved this and this will definitely keep me practicing.
I discovered that the program will make you repeat lessons on or after a certain amount of days from the original trial. This will insure you remembered all of your lessons.
Games and addons:
You can schedule studio times, and game nights, but I'm a little too shy to try those out for now. I didn't practice regularly and feel I have way too many gaps. I will report back on another month for level 1 unit 2, and maybe studio/game times.
There are multiple game levels at the bottom of the home page. They include stories, which you must unlock by studying certain units, and memory games.
Memgo: You must match the Japanese word to the correct picture. They're all faced down so you not only have to remember what Japanese word is, but you have to remember where everything is placed!
Picari: Told and shown a sentence, must match picture to it.
Buzz Bingo: You play bingo while a native Japanese speaker reads a story (I think it's a story!) and you must click on phrases you hear. It's all in Kanji, so thankfully because I'm up to 500, I was able to follow along. Had it been in Kana, I would have been much faster. Out of the three, I find this one the most fun!
Mobile Totale Companion (On Iphone):
Does not sync with the online version as far as I can tell. You must know which level, unit and lesson you are one. You pick the lesson.
You have to download lessons from their online server. Doesn't take too long but you will need either wifi or a nice data package. First download I did, I had an error. However, when I retried, it started at the % that the error occurred. This happened several times unfortunately. I have full bars for both the phone and 3g but my wifi was turned off. Did not run into any difficulties once I turned wifi on.
You cannot minimize app while download it happening, this causes it to pause.
There are glitches in the Japanese mobile version. Kana is  is supposed to be in Kana only, contains Kanji. Switching between Kanji, Kana and Romaji causes your attempt to be erased and you must do it again.  I plan to report this bug to see if it's updated in the future.
Feedback and error reporting:
If you are logged on to the browser platform, there is a link at the bottom to leave feedback and error reporting. Under all of the pages that pops up has an option to start a new case. I'll report back with how long it takes (submitted at 8:15am 5/10/12)
Update: I received a response at 5/10/2012 12:59 PM stating  to uninstall the app and reinstall it. I tried and it's still showing Kanji instead of Kana only, I will call the support team to see if it's a programming issue or an issue on my side.